Upcoming Events
Free blood test camp at Nidan pathology on 8 may time 11am for thalassemia patients , food , ice cream & gifts to all patients organised by TCWG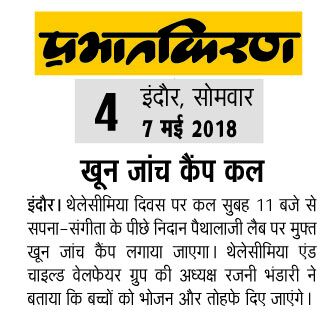 Short Film Festival 2018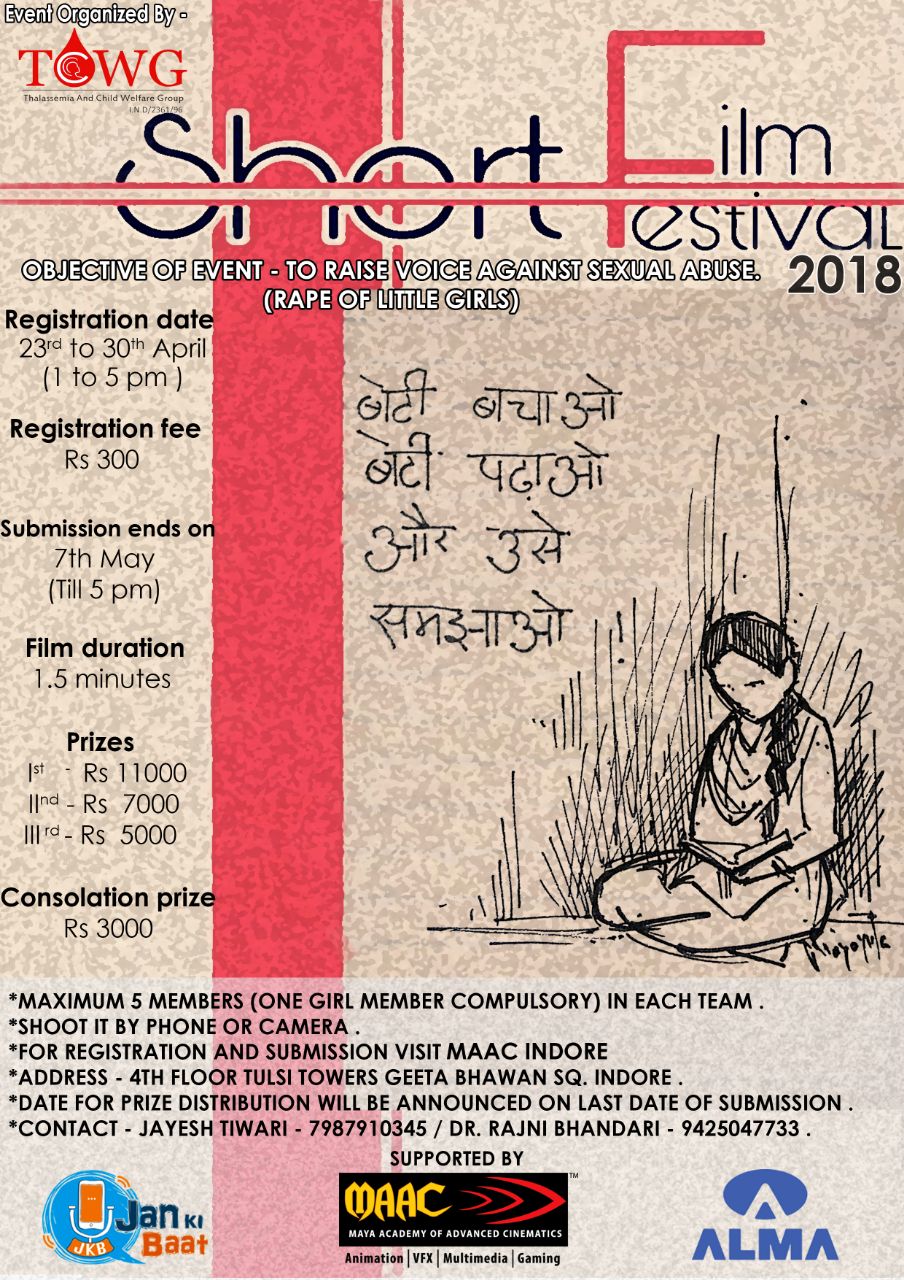 ---
HLA MATCHING CAMP

28th MAY 2017 - Career Bloom Pvt. Ltd
Time- 10:30AM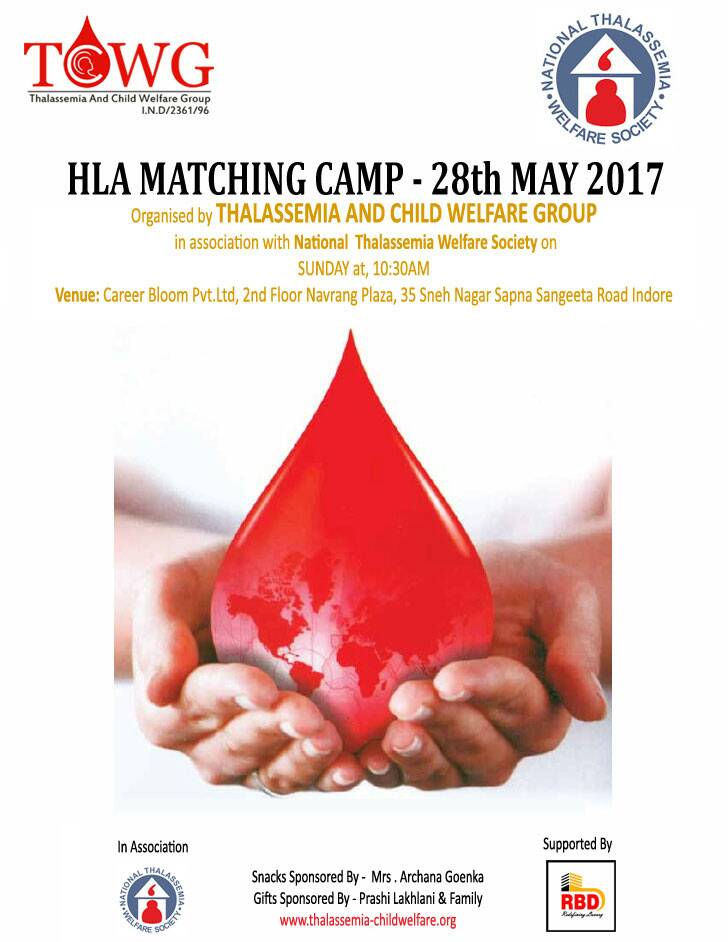 ---
Short Film Festivel

30th April, 2016 - Virtual Voyage, Indore
Time- 4:30 pm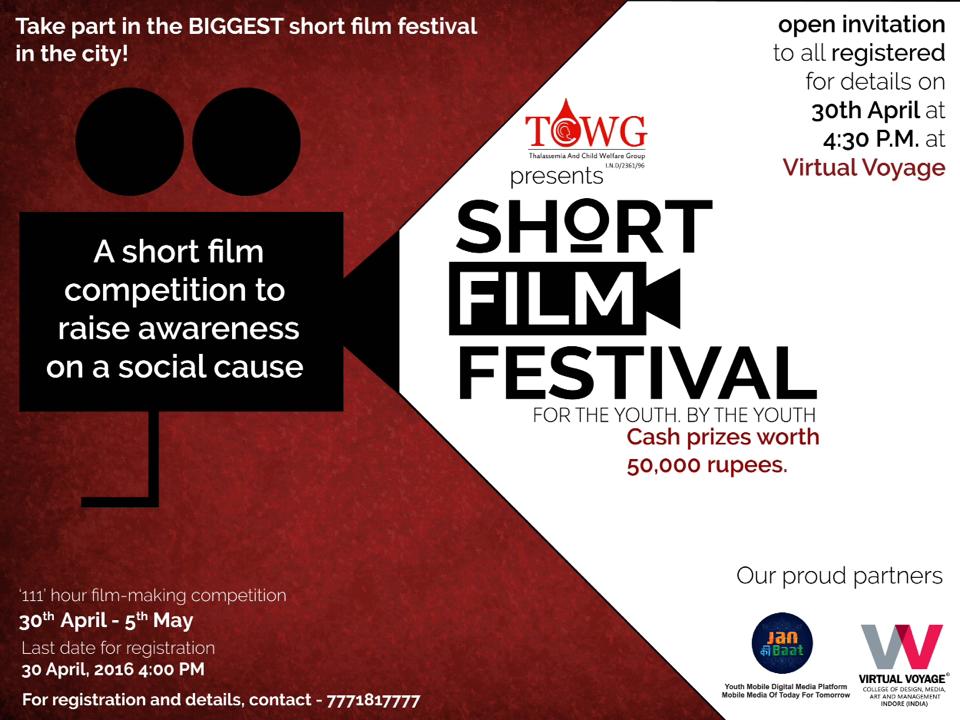 ---
Releasing 10thEdition of Khushbu

17th July, 2015 - Hotel Mangal City, Indore
Time- 3:30 pm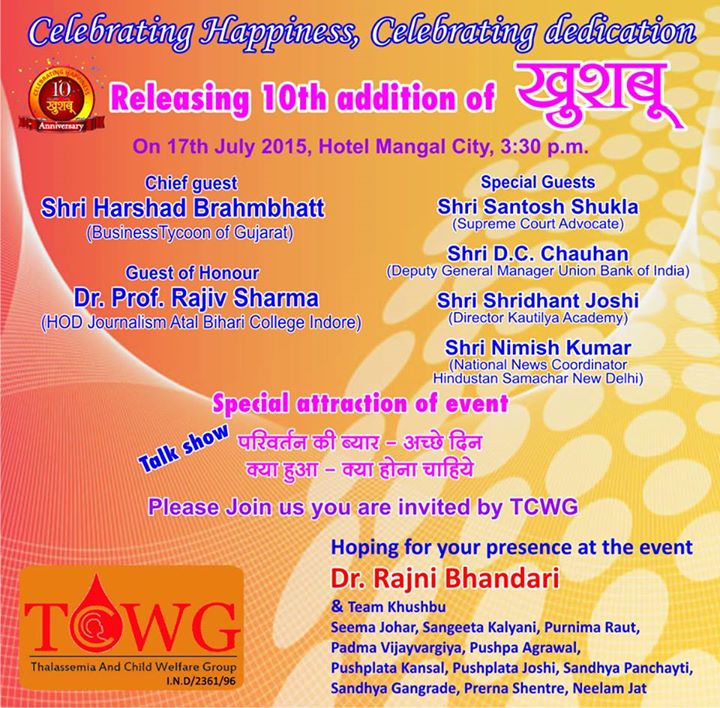 ---
LET US JOIN HANDS TO ERADICATE THALASSEMIA
SPREAD INFORMATION ERADICATE DISEASE

7 May, 2015 - DAVV Auditorium, Khandwa Road Indore
Time- 3:00 pm
Our aim is to motivate each youngsters to know his or her Thalassemia status.Thallasemia is one of the main hemoglobinopathies among population all around the world. As genetic disorder it cannot be cured, need repeated blood transfusion. Being a thalassemia trait or carrier is not at all dangerous. A carrier is a healthy person. About 4% world population is carrier of thalassemia genes. It is estimated that 10% of world thalassemic people live in India. According to report of TIF (Thalassemia International Federation) nearly 2 lakhs thalassemic major patients are under treatment all over the world.
Thalassemia is a preventable. Preventation is always better than cure. With this aim on the occasion of world Thalassemia day 8th may, we are organizing a awareness programme on 7th May in Devi Ahilya Vishwavidalaya. Indore. Time - 3pm.
Dr. V.P. Choudhary a eminent specialist doctor with great work on Thalassemia from Faridabad will present detail information about disease in psence of nearly 1500 students from different colleges including all nursing & medical college of social work, NCC Cadets and NSS Students. Our chief guest will be health minister of M.P. & Chief Journalist Rajya Sabha T.V. Rajesh Badal. Vice Chancellor of DAVV & representative of local administration will be special guest.
Play on thalassemia by drama group Bhopal and signature campaign & question-answer session are special attraction of event. Various prizes & certificates for participants. Print media as well as electronic media will cover the event.
---
YOGA DAY CELEBRATION

21st June 2015 Nehru Stadium, Indore

Time- 9:30 am
Our organization thalassemia and child welfare group NCC (National Cadet Corp) is organizing a Yoga simulation on account of International Yoga day 21st June 2015 in Indore at Nehru Stadium.
This is a part of the Nation wide yoga campaign organized by NCC in order to take forward Prime Minister vision pronounced by him in his speech in successfully in Indore.
The event is also aimed at establishing a world record on the yoga day. This provides and opportunity for your company to support the eventand be a part of this historic event Nationwide. Print and electronic media visibility will be achieved.